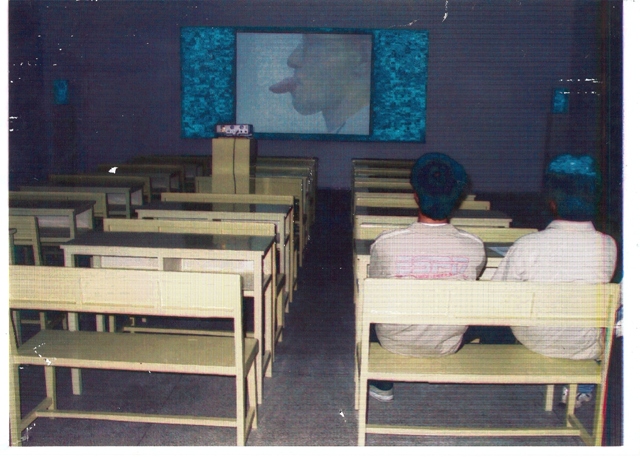 The Chinese European Art Center presents a new exhibition, the video
installation Passing the Information(2002) by artist Kaap(Gerald Van Der Kaap), one of Europe's leading media artists, from March 8 through March 31, 2002.
Passing the Information consists of a classroom complete with school desks and benches, as well as a video blackboard. The blackboard has a white rectangle on which a DvD is projected. The DVD showcases images from various sources, from footage recorded from TV(ranging from nature documentaries to raw images received by satellite), short video she made during his travels around the world, to portraits in close-up of students hemet at the Xiamen University. The latter were made during his stay in Xiamen as an'artist-in-residence: By a how ing young a people on gt hessereen, Kaap mv wants to create a regenerative environment. Young people are the future. Always and everywhere. As one writer recently put it: *Experiencing Kaap's art means entering into a kaleidoscope where anything is possible". Conceptually, Kaap's video recordings are almost like moving photographs. In one videotape the artist samples a 20-minute excerpt from a nature documentary(broadcasted by the BBC) while the artist was listening to the music of the English band Underworld. Kaap recorded both'live' a this studio using an audio mixer to mix out the spoken commentary. In a recent interview Kaap says about this work: "I recorded it just like I make my photos. It's like a 20-minute snapshot."
"Kaap used photography as an entrance to the entire field of(new) media, " says Arjen Mulder, critic and author known for his writings about new media. At the beginning of his career Kaap soon developed and introduced a number of brand new formats within a wide range of fields: first staged photography and later computer manipulated photography(extensively shown abroad at over 200 exhibitions). As a director/producer he made experimental television for Ra bot nik TV(1987-1988) and the award winning CD-Rom Blind Rom(1993), which many consider to be the world's first artist CD-Rom.
Gallery