September 6 at 5 PM, 2002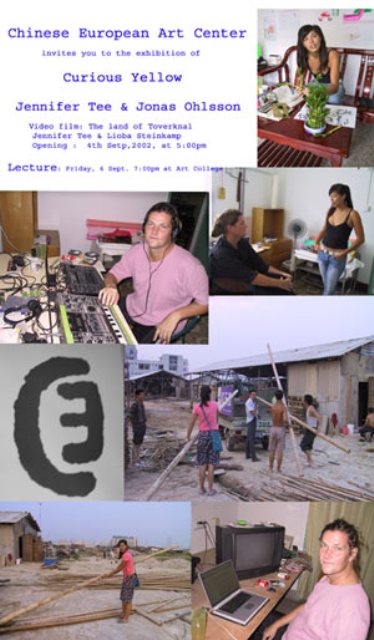 Jennifer Tee & Jonas Ohlsson both use various media for their work such as sculpture, video, music, performance and drawing. Both artists have a very open and lose working methods, thus creating a vibrant atmosphere.
Jennifer Tee creates her own mythological stories, a small cosmos in every new exhibition. She adds a new part to this ongoing narrative. In a world constantly changing, she finds it important to tell her own truths. By doing so she is looking for underlying links between herself, history and people all over the world. In Chinese European Art Center she shows two of her latest videos "The Land of To verk nal" features the artist in Brazil, where she learns from an African Brazilian Shaman that in order to follow a mystical path, you have to go deeper and deeper in an unknown truth, in order to do so, you have to make ritualistic offers. Another video "Stualmuur 5: 30" shows five Mongolian throat singers sitting on a nice landscape sculpture made by Jennifer, the start singing their deep sound at dawn(5:30am) untill the sun appears! The songs praise the beauty of the spiritual mountain and its surroundings and recall the times of their mighty leader Genghis Kahn.
Jonas saying something about art:
Let's say you want to speak to people. There are different ways of doing it:
1. In London, you have the Speakers'Corner in Hyde Park, a small corner in the park where people can standup(usually on a small box) and speak what is on their mind.
That is one way. That is one podium.
2. In Nurberg, Hitler filled a big stadium, with thousands of soldiers matching, light shining, cool flags waving, and manly-macho speeches.
That is another way, another podium built to get a message across.
3. My installations are also podiums, built by me to suit my message. On my podiums, I can talk about what I need to talk about. For example, which parts I like on girls'bodies, The Israeli occupation of Palestine; What I love and hate in the art world; whatever enters my brain.
In Xiamen, people seem to think that art is painting. That is wrong. Art can be painting, but it is
bigger than that. It is bigger than us, than time and place. Like Tao, art is a force with nobody.
Art is a gift to the human race, from the human race. Artists try to give art a body, best we can,
but try is all we can do. If this seems vague to you, I am afraid art will not let me be more specific with outlying.
Here are two tips to becoming artists:
1. Speak what is truly on your mind and form will follow. That is to say, speak what is truly on your mind and you don't have to worry about esthetics, etc.
2. Sacrifice excessive skills on the altar of joyful discoveries. Do not focus on skills too much, or you will lose the fun of having new ideas.
Gallery