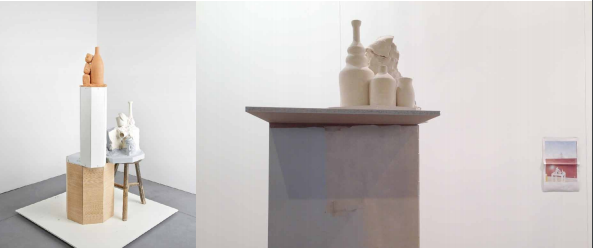 TRAFFIC finding a shape and place my early works were often inspired by the phenomenon traffic three elements that i find interesting are (1) the seemingly randomness of how things take shape (cars, roads), (2)the fact that one always takes a place and thus blocks someone else's and (3) the 'loop-factor': traffic seems to endlessly behave the same (crossroads) while at the same time it consists of individual entities that do nòt loop (the single car or pedestrian).
MACHINES disappearing from those issues of taking a place and a shape, my interest shifted towards the question how to avoid this in a series of movies i wondered how to disappear this is especially clear in the animation series 'machines' where six machines, made in a machine (the computer) attack their source and stop functioning.
CERAMICS simple shapes with a function after the machine series i decided to leave the computer and stop illustrating this idea of self destruction also i wondered why i would copy the world (in animation) i decided to just make shapes with a function since 2011 i've been making wheelthrown ceramics.