November 14 at 5 PM, 2008
November 14 till December 12, 2008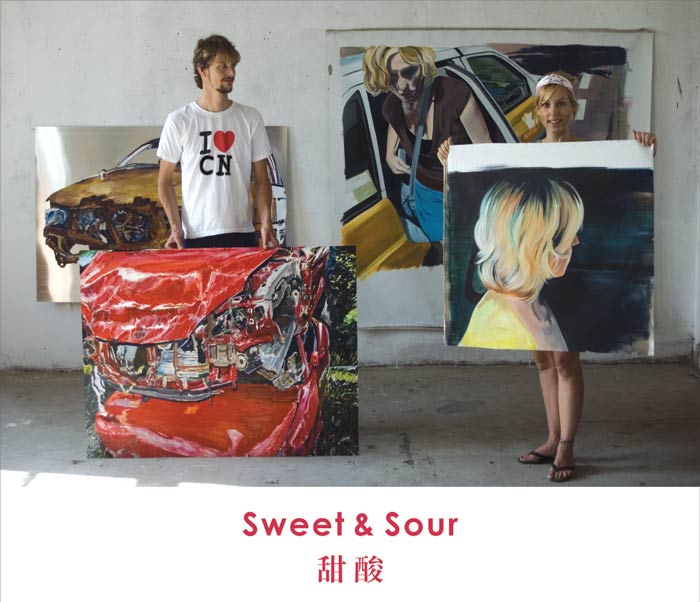 Jaring Lokhorst (1972) and Chantal Spit (1971) are artists from Amsterdam, The Netherlands. Both Lokhorst and Spit make figurative paintings, for which they use photographs as point of departure. Their work is a highly personal response to their view of the world. Of course, their paintings are different in many respects; due to the different frames of reference of the makers. Still, both artists have much in common, for in both their works the world as they see it is deconstructed, redefined and in the end creatively articulated with the medium they love most: paint.
'Sweet & Sour' is the title of this exhibition. It shows a selection of paintings that Lokhorst and Spit made during their 4-months stay in Xiamen. The title could be, among other things, interpreted as a metaphor for life, which has both its sweet and sour side.
These sweet and sour sides of life are visible in different ways. Lokhorst presents a series of paintings with images of car wrecks or parts of car wrecks as subject. Carwrecks tell us that lives and things don't last forever. It is quite a dramatic message. At the same time the wrecks have been painted in a way that makes clear that there is beauty in transience. Broken objects, dents, shattered glass, rust and twisted steel are painted with direct brushstrokes and intuitively chosen colours. Generally speaking the composition of the works shows us only a part of the object. But Lokhorst also offers us a look at a whole world of wires and sometimes unrecognizable car parts and in doing so presents the viewer with an adventure of form, rhythm, colour and speed of brush. Although they tell a sad story, there is a beautiful interplay between the subjects of these paintings. Sweet meets sour.
Chantal Spit's work is a sort of diary. Her subjects appear to be sweet, as is for instance seen on the painting "Lost Bird" where a little bird can be seen sitting on someone's hand. Still, Spit's works never reveal what really happens in the picture. It's not her ambition to force her version of the story on the viewer. Through her paintings she offers a hint at things that one can fantasize about or that might trigger a memory.
Especially in works like 'Bed'or 'Red Scarfs', where someone's presence can be sensed without seeing him or them, the viewer is challenged to create his own story.
Creating a story in this way means making use of things (experiences, knowledge, memories, feelings) that are already present in your heart and mind. To find these one sometimes will have to go back in time. Maybe that's the reason for the melancholic nature of Spit's work.
'Sweet and Sour' is a typical ingredient in the Chinese kitchen as well. Being in China, working under different circumstances with different materials, forced both artists to be creative in finding new solutions for the problems they encountered in order to create their works. These small differences and the inspiration that they derived from living in Xiamen for four months flavoured their work with a Chinese sauce.
Jaring Lokhorst and Chantal Spit are thoroughbred painters. They consider themselves heirs to the Dutch tradition where brightness and treatment of paint have the utmost priority.
In this exhibition the pleasure and enthusiasm with which they worked in Xiamen is clearly visible.
Enjoy the show!
The exhibition was made possible with support by The Netherlands Foundation for Visual Arts, Design and Architecture.
www.fondsbkvb.nl
Jaring en Chantal joined forces during their residence at the CEAC in Xiamen. Both artists make figurative paintings in their own style. Through their work the artists show their individual perception of the world around them.
The exhibition 'Sweet and Sour" shows the work that Jaring and Chantal made during their 4 month stay in Xiamen. The Consul General of The Netherlands from Guangzhou Mr. Ton van Zeeland will open the exhibition. We are happy to invite you to this exciting event.
Homepages:
www.jaringlokhorst.nl
www.chantalspit.nl
isplay">Gallery