April 11 till May 11, 2003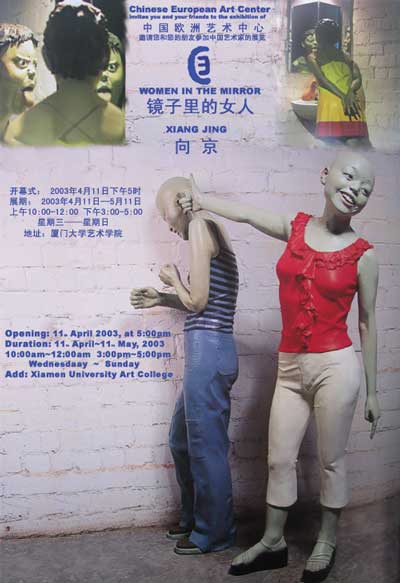 Details easily to be found in adolescent females' daily life are picked out from their realistic background by the Artist Xiang Jing. Those young women's images are true and their manner are straightforward. But their distracted attention and expression in eyes give the fair tale about adolescency and growing up a sense of instability. It seems that Xiang Jing is showing us some scenes in daily life. However, the scenes themselves are not her point. What she intends to show is the young women's real mind condition behind their appearance: be at a loss, bored, and depressed. They have been expecting something for too long time.
Xiang Jing's painting style colour up,her sculptures which is concise and controlled, proves to be an unreplacable art language in her works. Young girls's images, stimulated by colours, absolutely deny the worldly poetry and slide over the meaning of images in social criticism. However, they amazingly accord to Xiang Jing's daily life, therefore bear traits of existentialism. Xiang Jing's awareness of art language and consciousness of taking individuals as art subjects are still distinct in the sculpture coterie in China.
No One Can See For Us
We are combating with eyeballs-for eyeballs are so expensive.
But the only thing we can exchange for, is gazing. Gazing is one way we see, but not with eyes. You collect a great sound from nature. But people shake their heads, "no, I do not hear it." Do not be disappointed. Gathered people are not natural. You can break the sound and hand the pieces around-"oh, yes, it's so great."
Everyday when you get up, you hear the sound of the sky's beginning. But at dusk, you never notice the setting sun, for you are hurrying with your journey. So you are more meticulous at night than you are in the day, and you are more sober when you are sleeping than you are awake. Appealing, is a way of speaking. But it always looks like a kind of performance, even when hiding behind the annals. It is simply a reproduction of some games to pirates who like melodizing. But anyway performance is a type of visual arts. When you wave your arms with a flourish on the beach, you really seem to be dancing. But pirates think that you just want to get on board.
Look, there is the setting sun behind the boat-it is splendent, and never appeals. Metaphysics is an offence. It pretends to enlighten you but in fact curses your eyes. In the musical class you see the piano jounce, but cannot see any sound from it. With a flight ticket, I see woods and moors, but cannot see the greenness of newly broken branches, the scorch of fallen leaves, the glittering of dews and the sound of wind blowing across the field. In the farthest distance, you see the red spire of a church, but you do not know the direction it is showing. So "No one can see for us"
Guang Ci
March, 2003
Gallery