Concert hall of Senior Activity Center, Xiamen, China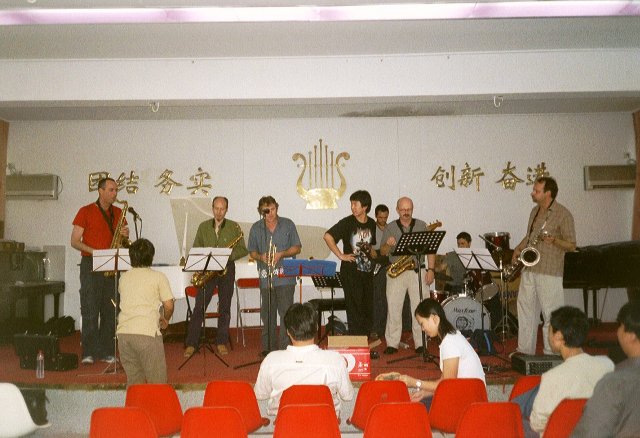 The Paul Termos Ensemble consists of 4 musicians from the Netherlands who are very active in contemporary music and improvised music. The ensemble brings a programme with works by
Dutch and European composers in different instrumentations from solo to quartet, but also improvised music for saxophone and/or guitar solo and duo. The programme gives a good view into the current music life of the Netherlands, which is very internationally orientated and open to many influences from abroad. Typical of this music life is the cross over between composed and improvised music. Composers such as Guus Janssen, Peter van Bergen, Maarten Altena and Paul Termos are also musicians themselves, performing in improvised music groups.
The ensemble can play in concert, but they can also give workshops as soloists for composers, singers, guitarists, saxophonists and pianists, or for any student who wants to know more about improvised music Composer Paul Termos can also lecture about contemporary music in Europe and especially in the Netherlands.
Paul Termos will be in Xiamen, China, on 23 February 2001, when the DVD-project "Flash" is presented there in the Chinese European Art Center. "Flash" is a project in which 9 composers from the Netherlands and 9 visual artists have worked together on 9 video/DVD-productions with new music.
Gallery